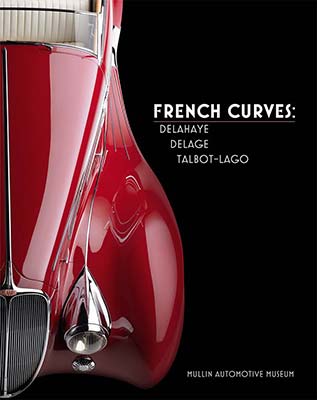 French Curves
Delahaye, Delage, Talbot-Lago
French Curves: Delahaye, Delage, Talbot-Lago is the second in the series of titles that feature the great French cars on exhibition at the Mullin Automotive Museum in Oxnard, California. These three grand marques as presented in French Curves are the epitome of wonderful French design combined with imaginative technological innovation.
Written by noted French car expert Richard Adatto with Shana Hinds, French Curves presents extensive thoughts by Claude Figoni who has passed along his personal insights into the world of French coachbuilding in the 1930s. This impressive title includes 25 examples - many never seen before - and are complete with historical documents, vintage photographs and modern studio imagery by renowned photographer Michael Furman.
French Curves: Delahaye, Delage, Talbot-Lago saw its world release at the 2011 Pebble Beach Concours d'Elegance. Click here to purchase your copy now.
Viva la France!
"...Photos of the details on various cars will have you spending hours leafing through the book, finding new gems each time." - Roger Hart, Autoweek