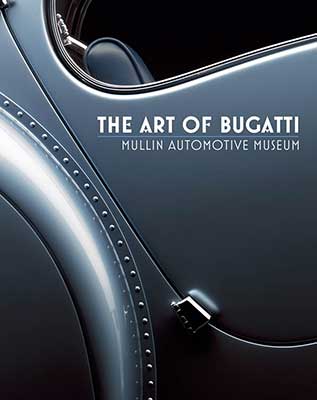 The Art of Bugatti
Mullin Automotive Museum
The Mullin Automotive Museum in Oxnard, California is a glorious testament to French design in the 20th century. The collections include all manner of French cars - be they touring or competition, and from the greatest marques.
But the Mullin Museum holds a special place for the artistry and talents of the Bugatti family. From the 29 museum cars of Ettore and Jean Bugatti, to the fanciful furniture of Carlo Bugatti, and the sculpture of Rembrandt, the tribute is as breath-taking as it is historically significant.
Written by noted French car expert Richard Adatto, Bugatti historian Julius Kruta and furniture authority Christina Japp, The Art of Bugatti brings the heritage of this famous family of artists and innovators to life. With rarely seen historical photographs and documents, each car is presented anew in studio photography by renowned automotive photographer Michael Furman.
The Art of Bugatti: Mullin Automotive Museum had its world release at the 2010 Pebble Beach Concours d'Elegance. Click here to purchase your copy now.
. If you are not already a "Bugattiste," you will be soon!
"...stands as a primer on all things Bugatti...you'll want to look through from time to time to be reminded of the beauty and elegance of another era." Roger Hart, Autoweek