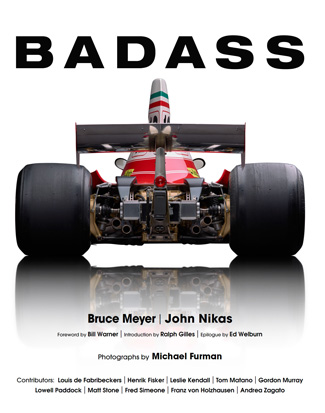 Badass
Badass explores an unheralded aspect of automotive design: the role and importance of the rear end in terms of the vehicle's overall function and personality.
An all-star cast of contributors, including the world's leading automotive designers – Andrea Zagato, Henrik Fisker, Gordon Murray, and motoring historians – Leslie Kendall, Fred Simeone and Matt Stone, among others, lead this fascinating discussion, while Bruce Meyer, acclaimed as "America's favorite car guy," lends his own unique perspective from a lifetime spent as a fervent enthusiast.
From the 1911 Hispano-Suiza Type 45 CR to the 2018 Ford GT, Badass weaves an informative and entertaining narrative around automotive badasses. A must-read for every automotive enthusiast, this book combines fascinating essays, detailed analysis from design legends, rare period images and beautiful automotive portraiture from world renowned photographer Michael Furman to create a memorable experience for the reader that is sure to become a treasured volume to be referred to time and again.
Hardbound, cloth cover with dust jacket
256 pages, 411 photographs in color and black and white
ISBN # 978-1-7325017-3-7